AI Essentials, a Microsoft test-bench experience
Microsoft popularizes Artificial Intelligence! On Tuesday, the American firm launched AI Essentials, free training sessions on Machine Learning, Deep Learning and cognitive services on its Issy-les-Moulineaux campus.

Artificial Intelligence on the banks of the Seine! From Machine Learning, Deep Learning and cognitive services, the program was copious, Tuesday, for the grand premiere of AI Essentials, a regular appointment instituted by Microsoft France in a quest to popularize these disciplines.

Big Data, Machine Learning and cognitive services

The AI Essentials inauguration session, which was given free of charge to all those who had previously registered on the IT giant's website, took place directly on the Microsoft France campus in Issy-les-Moulineaux. A pleasant place for three hours of training broken down as follows: Big Data & Machine Learning, create your own model and implement it then, finally, industrial use of AI, cognitive services (cognitive services in French...).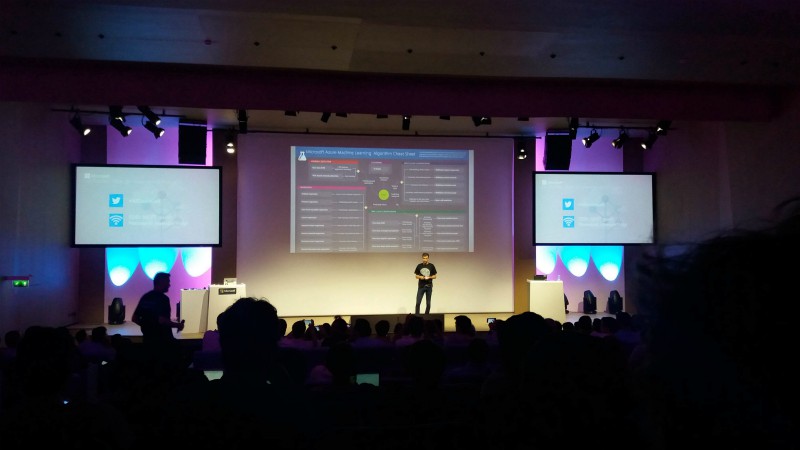 Developers, Data Scientists or simply passionate about new technologies, they were in any case many to have come to listen to the specialists of the American multinational. The place is pleasant, the amphitheatre, rather cosy place, fills up quickly and the show or, at least, the training session can begin.

Nor should we kid ourselves. If the training provided by Microsoft on Artificial Intelligence is totally free, it is also and obviously because the brand takes advantage of this event to present its own products on . Logical, even legitimate! This is not a bad thing because some of them have a real interest and can bring new professional perspectives through their implementation. As such, the conference begins with a subtitling of the speaker on the screens in several languages and in real time. The result is amazing, as it was for the Real Crowd Insights algorithm that welcomed the audience at the entrance of the amphitheatre. Already at , the Real Crowd Insights algorithm, through a camera, is able to accurately determine your age, gender and mood in real time...




Pierre Gilot, Cloud Solution Architect at Microsoft, is the master of ceremonies and launches the debates. Open to all and therefore ultra-accessible, the session begins with the distinction between Machine Learning, machine learning, and Deep Learning, deep learning. Sylvain Piguet, also Cloud Solution Architect for the American company, and Sylvain Renouil, Partner Technology Strategist, are in charge of being didactic and being able to explain these concepts to the amateurs. In summary, we will have learned that a machine has the ability to learn through data provided by humans as part of Machine Learning. In Deep Learning, the machine has the ability to learn by itself.

Windows Hello, facial recognition by Machine Learning

Windows Hello, which secures access to your PC, works for example with Machine Learning for facial recognition. The individual stands in front of his camera, his face in a frame provided for this purpose, and the machine records data at eye, nose and mouth level necessary for identification.




In , data is therefore the source of learning. Of course, this is not enough since the number and nature of the characteristics (or features) are essential for detection. They must imperatively be discriminatory. For example, the machine will not distinguish a muffin from a chihuahua if you choose color as the only distinguishing characteristic. The same applies to the recognition of a French car if the only data available to the machine comes from the American car fleet. A Twingo can thus appear to the "eyes" of the machine as an SUV. You will of course agree that there is a world of difference between the two.
Once the data is collected, it is time to drive the machine. Several methods exist to drive an algorithm, either by regression, by clusters (grouping all components that have the same elements) or by neural networks (voting operation).

Data Science, an iterative process

Clément Le Roux and Vincent Chartier, both Cloud Solution Architects, appear on stage to discuss the creation of their own model and its implementation. Data Science, since that is what we are talking about, therefore consists of an iterative process to define the best Predictive Model possible. It is necessary first to prepare the data, eliminate the less discriminating ones in particular, then to train the algorithm of Machine Learning before establishing a scoring and to resume at the first stage of preparation of the data to improve the model.

Of course, Microsoft does not forget to specify that Azure Machine Learning Studio is a facilitator to start the implementation of your own Artificial Intelligence, as an accelerator to operationalize the models of Machine Learning in production.

Cognitive Services for AI in your applications, websites and bots

Finally, the last module remains, the one devoted to the industrial use of AI with cognitive services. Mouhamadou Diallo and Omar Battoum, each Technology Solution Professional, come on stage to discuss their capabilities and their fields of application. There are five of them with vision, voice, language, knowledge and, finally, research.




The fields of application are necessarily and legitimately very varied for each capacity. For example, Uber now uses cognitive services and vision for the safety and identification of drivers before they take up their duties. With Videoindexer.ai, it is also possible to find in a video the precise sequences where a particular person appears. The cognitive voice service can be useful for speech to text, text to speech or user intention extraction.

Very didactic, these AI Essentials constitute, in fine, a beautiful appointment to learn more on a subject which some consider henceforth as the 4th industrial revolution. The next training session is scheduled for September 25. Will you let yourself be tempted?

Register for the next AI Essentials training on September 25th.