Bonanza, an algorithm that facilitates the search for internships
An algorithm to facilitate the search for internships. Bonanza, a startup which notably manages the Stage is Yours platform launched by the CGE and the Cigref, puts students and companies in contact in search of trainees or alternates. Bonanza's co-founders, Mathieu Marziou and Franck Magnan, are engaged in this beautiful adventure.

Mathieu, Franck, how was Bonanza born, who started it and what is the initial idea?
Mathieu Marziou: Franck and I are its co-founders. It started from an observation when we were students. We wanted to create a rather simple tool to respond to new practices in the student world that would allow you to apply for internship offers directly on mobile. When we were in school, there were no such solutions. When you are a student and you encounter certain problems, it is often at these moments that good ideas are born. We then worked on the whole business side and surveyed the HR departments to see that there were also problems at their level such as, for example, connecting more simply to students by an employer side. Even we, in our fourth or fifth year, realized that we didn't know this business environment at all. The main idea was to go faster with new methods to find an internship on the student's side and recruit on the employer's side.

Students and companies are the main prospects you are targeting...
Franck Magnan: There are actually three with students, companies but also schools. We have marketing practices that will ensure that companies and their offers are sought first, whether directly or indirectly with partnerships or the sales prospecting team. Depending on the needs of companies, we will activate school partnerships that will distribute the mobile application to their students. In parallel to this, we will do digital marketing actions (on social networks for example) to make us known, to facilitate downloading the application and find offers on it, but also to ensure that we have relevant student profiles and good volume on the application.

"Bonanza, a free app for students"

How does the Bonanza algorithm work and the match between a student and the company?
Franck: The Bonanza algorithm is first based on what we get on the student side. At the entrance, students enter information on their training, professional experience, sector of activity and the position they wish to hold, for example. This information allows us to have a good visibility on the student's profile and to make him match with the company and its offers.

Is it complicated to set up and test an algorithm like this? Did you get enough data?
Franck: When developing an algorithm in the recruitment sector and more specifically with students who do not yet have a good knowledge of the information to add on their profile, it requires a lot of time and a lot of testing. To fully understand their desires, ambitions and skills, this requires a lot of configuration and the integration of new variables. You have to test all the time with many different students, companies and offers.
Mathieu: We realize that recruitment is a sensitive subject. We can't afford to have an algorithm that's half working. It's a continuous iteration. It must be tested each time by students and companies.

What is your business model and how do you manage to make your activity sustainable?
Franck: It's obviously free for the student. We offer annual subscriptions to companies to allow them to make themselves visible to our community and to be able to publish offers on the application.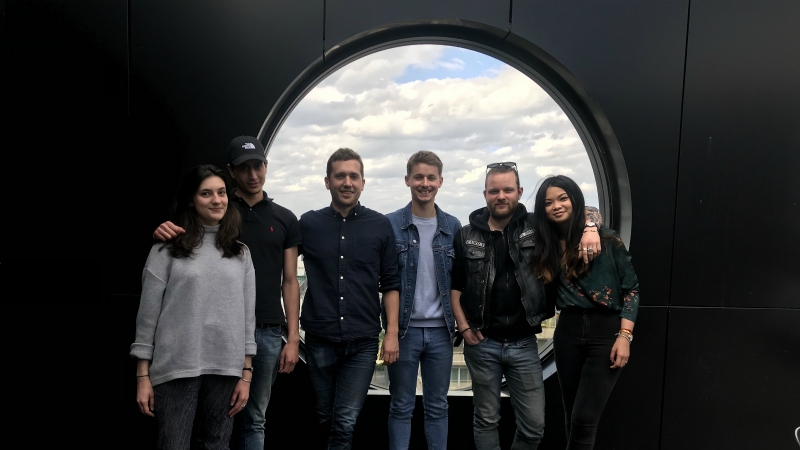 Do you offer different annual subscription offers?
Franck: In fact, the subscription varies according to the volume of offers a company wishes to submit over the year. For internships, there are very often recurring offers and needs for certain types of positions, unlike permanent contracts. Trainees often follow one another in the same position. This is also why we offer year-round subscriptions to companies. We also offer support for companies in order to manage their employer offers properly and so that they are better adapted to the millennia (people born in the 80s and 90s, editor's note). Finally, we organize our own events, Job fair, to recruit Bonanza style, that is to say in a more relaxed, friendly and informal way with our partner companies. All students, from our partner schools or not, are welcome.

Does the Bonanza application work all over France?
Franck: We are present everywhere in France. Most schools often have branches throughout the country. When we form partnerships with schools that have branches here and there, we activate the system throughout France. At company level, it is also the same thing: offers come from everywhere. The biggest cities we are working on are Paris, Lille, Lyon and Nantes. The South.

Can you also tell us a word about the connected CV you have set up?
Franck: It's a feature that's been in test for a year with the whole team. The goal is to allow companies to no longer have to leave fairs or forums with bags of CVs. By scanning the QR code present on the student's application, the company has access to his profile, which allows him to find it very quickly in the Bonanza database.

Where are you today?
Mathieu: We're just getting started since we launched the application in January 2018 but we have 1,500 new students per month signing up.

What companies do you work with?
Mathieu: To trace the history of this part, we started with partnerships with startups to address our message to as many companies as possible. That was our first approach. Now we're going after major accounts and we've managed to get contracts. We work with Air France, SNCF and Eiffage.
Franck: To rebound on what Mathieu says and as we are still a small team of 7, we have found real partners like the Cigref which represents the 150 CIOs (Director of Information Systems) of the largest French companies in the digital professions, ... They had a problem for which they chose us: these managers were no longer able to recruit students for internships because of too much competition and less appetite for a CIO job that they were unfamiliar with, or even companies they considered less sexist. So right now, we are really on this project to use their employer brands and our algorithm to quickly recruit passionate and relevant students.
Mathieu: Le Cigref is also in partnership with the Conférence des grandes écoles. This allows us to recruit students, schools and companies alike.

"Working on the Artificial Intelligence and Algorithms part"

You are today a small structure with its advantages (flexibility, reactivity), is it precisely a question of recruiting to increase the Bonanza workforce?
Franck: We will more or less try to double the team by the end of 2018 and try to complete recruitment for the September-November period. We already have a good technical team with an excellent CTO, a very good lead developer and good freelances on the mobile application part. Where we have the most needs is on the commercial side. We have many opportunities on the recruitment of work-study positions because all companies ultimately need them but we are not always able to respond favourably because we are not numerous enough. It is on this whole part that we will try to complete the team and organize ourselves well.

Have you thought about expanding your target with your algorithm and looking for job seekers, for example? Does Bonanza have that vocation?
Mathieu: We have already heard this observation, but we realize that there is so much to do on the internship-governance part and, more particularly, on learning, that we still have quite a bit of time to work on all the possible actions to carry out. Learning is developing enormously and support structures are not numerous enough. We ourselves have efforts to make to best develop our solution. We were at the launch of the MEDEF campaign "L'apprentissage mon plan A" with schools, politicians and companies and it is a big project on which we will work.
Franck: For us as a startup, it's also much easier to grow and try to be a niche leader. It's more interesting to focus on a stage-alternance niche, because there is a lot of work to do, as Mathieu said, to open up to Europe, and even the world, for example. By opening up to other countries on the theme of students, we will be able to give internships to French students abroad but also offer foreign students to French companies. Our ambition is to be the leaders on this course.

What areas do you think could be improved?
Franck: We are currently on a V2 for the recruiter and company part. We wanted to make a V1 that would work and be simple so that students would find relevant internships and companies would find relevant profiles. Now, we will work more on the content part to allow companies to convey their media and their employer brands even more to students directly on their mobile. We will also work on part. On the first generation, we were really on hard skills. We were going to look at the sequences of functions, sectors of activity and schools that somehow create student evolution trees. There, we are going to achieve the same thing on soft skills: which are the values of the company which correspond to the student, which type of manager would correspond well to him because the internships are all the time assimilated to a tutor.

Find Bonanza on Facebook and LinkedIn

Download the application on the App Store and Google Play