city.forecasting.ai was at VivaTech and tells you his day
From Artificial Intelligence and algorithms to all the sauces! From May 24 to 26, Viva Technology, VivaTech for insiders, attracted a host of new products and technologies. City.forecasting.ai had gone there for the general public day and tells you his experience.

A day placed under the sign of the future with, as central element, Artificial Intelligence! The living room Viva Technology was present in Hall 1 of the Parc des expositions de la Porte de Versailles for the third consecutive year. From 24 to 26 May. Three days, the first two exclusively dedicated to professionals and the last to bring the general public in a quest to popularize these technologies, sometimes wrongly described as disruptive. In terms of attendance, this "futuristic" event was a real success.

Emmanuel Macron, Mark Zuckerberg and... Bots

It must be said that the organizers had put the small dishes in the large ones to attract the barge. Mark Zuckerberg, only that, for the opening of the show after the passage of the President of the French Republic Emmanuel Macron (in company of Paul Kagamé, his Rwandan counterpart) ! The head of state still and always there when it comes to talk new technologies and Artificial Intelligence after his speech during the day . The father of announced to him his presence in the final straight, a few weeks after his hearing before the American Congress. The New York native must not have felt alone with the no less attractive presence of Satya Nadella, CEO of Microsoft, Eric Schmidt, boss of Alphabet, or Dara Khosrowshahi, CEO of Uber, for any self-respecting geek.




Let's face it, this salon left us with a little unfinished taste. The day open to the general public was not necessarily of the same interest as the first two reserved for professionals. Some of them had even deserted their stand on the last day, thinking rightly or wrongly that business was no longer to be done. However, the public was there in the early hours of the event to see some new products. Nothing revolutionary either and that was also a small disappointment. In terms of Artificial Intelligence, astonishment has given way to reflection. Few are today people who have never heard of AI or predictive algorithms. It is therefore difficult to surprise anyone as information on the subject flourishes in the media or on social networks.

GAFAM, major accounts and startups at VivaTech's rendez-vous

On the other hand, city.forecasting.ai also met some nice people during this annual event. And we're not talking about Pepper, the humanoid robot developed by SoftBank Robotics and apparently summoned to welcome anyone who shows up at VivaTech's entrance. A nice but limited little demo that made us smile at most. No, when we talk about great professional meetings, we think first of the many startups that offer new services thanks to to the predictive algorithms they often develop within them.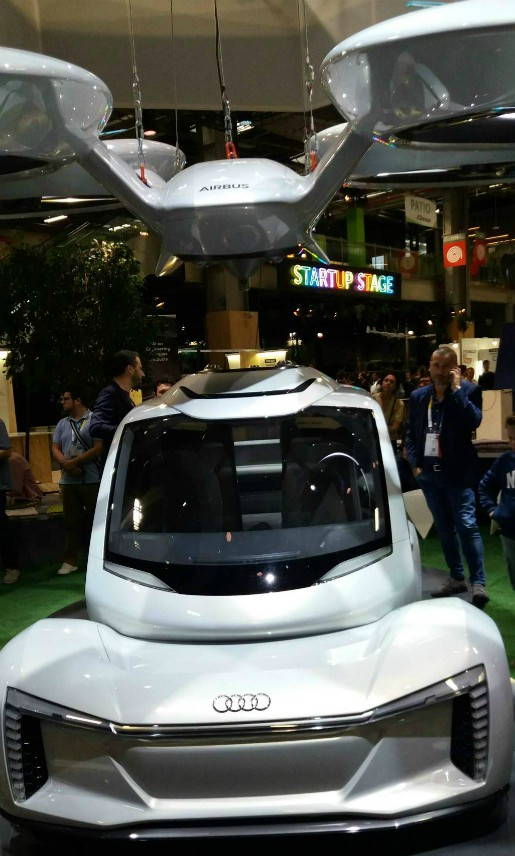 Structured around major accounts such as the RATP, EngieThales, GAFAM and certain regions of France or elsewhere (Africa also had a good visibility with the AfricaTech stand) which financially support such initiatives, the Viva Technology exhibition, which aims to install a CES-like So it wasn't just Pop Up, the flying car prototype jointly designed by Airbus and Audi, or the Sea Bubble, currently being tested on the Seine as a taxi. If the latter naturally marked the minds of the public, this Parisian exhibition was also a great opportunity to learn more about some innovative products developed by smaller companies.

Faciligo, Bonanza, the prediction to make life easier

With more than 5,000 startups scattered throughout the show, it would be futile to go around. City.forecasting.ai nevertheless appreciated some of them which deserve a little attention. This is the case, for example, for Faciligoa social network for mutual assistance between passengers in transport. Faciligo not only makes it possible to save money but also and above all to find a co-traveller, who is essential, for example, for anyone with a disability. Bonanza is another company initially created by a student for internship and work-study research. You post your CV, you indicate your wishes and a prediction algorithm, like for Faciligo, does the rest and puts you in touch with companies that are looking for profiles like yours.




Prediction is also the domain ofAdmiral Technologies represented by Katia Hilal. Amiral Technologies publishes predictive maintenance solutions with the objective of generating relevant maintenance alerts when equipment is defective, old or simply at the end of its life. An industry with zero defects and zero failures, that is the niche of Admiral Technologies. Did you also know TravelCar ? A car-sharing platform between passengers for those who wish to rent their vehicle while on holiday. In addition to car rental between individuals, TravelCar now offers new services to find free or paid parking spaces according to your wishes, at the time of the big departure.

Culture also starts in AI

In the cultural section, we were able to discover Ask Mona. Uartificial intelligence with which you can for example chat on Facebook Messenger. According to your desires, this one will propose you various outings (free, paying, concerts, exhibitions, museums...). Finally, to talk about a heavyweight, Microsoft AI impressed his world in terms of facial recognition. At the mere sight of your face, their Artificial Intelligence can determine your age, your sex or your emotions. Impressive or worrying, Artificial Intelligence was in any case in every corner of the show, whether for transport, health, finance or video production. Mark Zuckerberg and the others who had already left for other adventures, the AI was in fact the real star of this show.