Ten women who do Artificial Intelligence
Artificial Intelligence needs them! These women who are still under-represented in an AI field where biases are still too present. Not a day goes by without anyone hearing about a racist, sexist or sectarian algorithm. To highlight their current work and promote the benefits of their presence, city.forecasting.ai presents the portrait and journey of ten ladies who have fallen into the AI pot.

Artificial Intelligence should soon give them the upper hand. It is not only a wish or the will of a state, investors or a large IT company, but an obligation in view of the results or predictions delivered by certain biased data feeding algorithms. Otherwise, through unfair representation, how can we understand that the recruitment algorithm developed by Amazon does not recruit any women for computer developer positions, for example? And this event highlighted in France by L'Obs under the title "Amazon: L'Intelligence Artificielle qui n'aimait pas les femmes" in its online edition of October 11th is not unique. We inevitably think of Tay, an altered AI developed by Microsoft that had not lasted more than two days on Twitter before making racist comments. The very serious MIT even had fun creating a psychopathic Artificial Intelligence called Norman by inflicting only ultra-violent data on him.

Too much bias in data for machine learning and AI

Returning more precisely to the place of women in AI, the writer Robert Ito estimated him at 20% in leadership positions, according to an article entitled "Artificial Intelligence in the Real World Test of Human Influence on the Machine" published by Google on October 14th, 2018. A clearly insufficient figure when Emmanuel Macron mentioned "33% of women working in the digital sector in France" during the presentation of the report on March 29th. Giving them more space is therefore a necessity, although we are well aware that this will not be enough to eliminate all bias in the data used for machine learning either. However, a greater presence of women would help to rebalance forces and limit errors.

To promote a greater female presence in AI, here are the portraits and backgrounds of ten women who are now involved in Artificial Intelligence. A list of course not exhaustive, without classification and necessarily subjective but which only aims to show the influence of these pioneers in a field long reserved for men.




Fei-Fei Li (Twitter : @drfeifei ; G+ : /) : Just check his Twitter profile to see for yourself! Fei-Fei Li is a strong advocate of good and fair Artificial Intelligence for all. Director of the Stanford Laboratory of Artificial Intelligence, a specialist in computer vision and cognitive neuroscience, she is at the origin of ImageNet, a database of annotated images, and created in 2017 AI4ALL to promote diversity and inclusion in Artificial Intelligence ! Still the Scientific Director of Google Cloud, she should soon be replaced by Andrew Moore to only keep a role as an AI and Machine Learning consultant with the Mountain View firm. Undoubtedly, a pioneer in this field!

Cathy O'Neil (Twitter: @mathbabedotorg; G+: Cathy O'Neil): A former student of the University of California at Berkeley and the University of Havard where she obtained a PhD in mathematics, Cathy O'Neil became known within the Occupy Wall Street movement. The New Yorker is fighting to prevent the dangers of algorithms in areas as varied as justice, education and access to employment. She is also the author of "Weapons of Math Destruction: How Big Data Increases Inequality and Threatens Democracy" in 2016 and, therefore, a personality listened to in data science.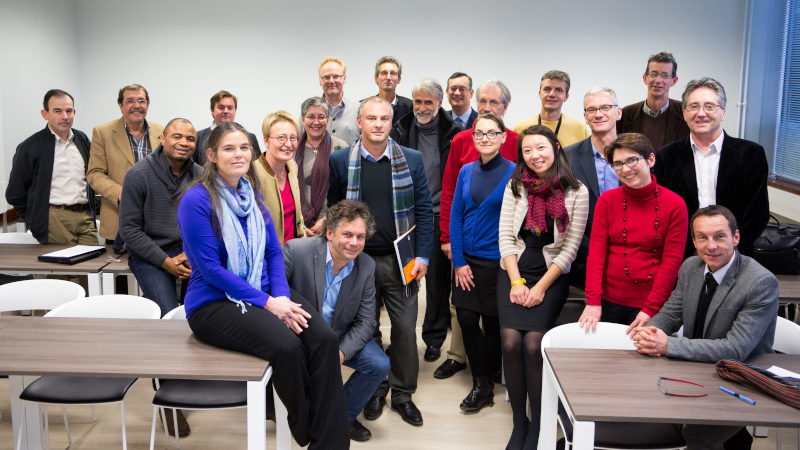 Carol Reiley (Twitter: @robot_MD; G+: /): Co-founder and president of Drive.ai, it is no coincidence that this young woman appeared in May 2017 in Forbes magazine as one of the most influential women in the field of artificial intelligence. A graduate of John Hopkins University, Carol Reiley is an expert in haptics and computer vision or CA. Her 18 years of experience in teaching, industry and robotics give her a real legitimacy when it comes to discussing the diversity or understanding of biases in Artificial Intelligence.

Female algorithms

Daphne Koller (Twitter: @DaphneKoller; G+: Daphne Koller): She has undoubtedly helped to democratize Artificial Intelligence since she launched Coursera, the largest online training platform on AI, machine learning and data science. A former professor of computer science at Stanford University, Daphne Koller recently founded Insitro, of which she is president, to use Artificial Intelligence to discover new drugs.

Joëlle Pineau (Twitter: / ; G+: /) : Invisible on social networks, you can find it more easily in the Montreal Artificial Intelligence laboratory, where she took the lead in 2017. Don't think that her career was all planned because the Canadian could very well have become a musician, like some members of her family. But it has therefore turned towards engineering and data science, particularly applied to the fields of health and medicine. What is its objective? The development of algorithms capable of making good decisions despite incomplete or erroneous information.




Joy Buolamwini (Twitter: @jovialjoy ; G+ : /) : Do you know the Algorithmic Justice League? If not, it is an organization that it originated from and that simply aims to combat bias in algorithms. Joy Buolamwini, a researcher at MIT Media Lab specializing in facial recognition systems, demonstrated that it was more difficult for software to identify a person's gender if the person was a black-skinned woman. The American monthly Fast Company cited her in 2018 as one of the defenders of online democracy.

Laurence Devillers (Twitter: @lau_devil ; G+ : Laurence Devillers) : Specialist in human-machine interactions, Laurence Devillers is a professor of Artificial Intelligence at the University of Paris Sorbonne and continues her research in a CNRS laboratory in Limsi. Author of "Des robots et des hommes: mythes, fantasies et réalité", she closely follows the evolution of AI research in France and had given us some of her time to share her impressions on , LREM deputy, by President Emmanuel Macron. A personality that cannot be ignored in the world of robots!




Aurélie Jean (Twitter: @Aurelie_JEAN ; G+ : Aurélie JEAN) : President and founder of In Silico Veritas in August 2016, doctor in materials science, the French Aurélie Jean is a lover of the code. She intends to democratize science and coach people on new technologies. Sharing her life between France and the United States where she lives in New York, Aurélie Jean frequently shares her vision on engineering, education or medicine via social networks or articles more enlightened than each other in the columns of Les Echos or Le Point.

Women are the future of AI

Rachel Thomas (Twitter: @math_rachel; G+: /): Co-founder of Fast.ai after completing a PhD in Mathematics at Duke University and working as an engineer at Uber, Rachel Thomas has enabled more than 100,000 students from diverse backgrounds with moderate coding knowledge to access training in the practice of Deep Learning. Her initiative has enabled a large number of women to learn about this activity and participate in AI research.

Alice Coucke (Twitter: @alicecoucke; G+: Alice Coucke): Senior Machine Learning Scientist at Snips, the company created by , Alice Coucke is a physicist by training, holding a master's degree in Mathematics and theoretical physics and a PhD in Statistical Phycis from the ENS Ulm. She is part of a new generation determined to promote women in the world of Artificial Intelligence, Machine Learning and Deep Learning.